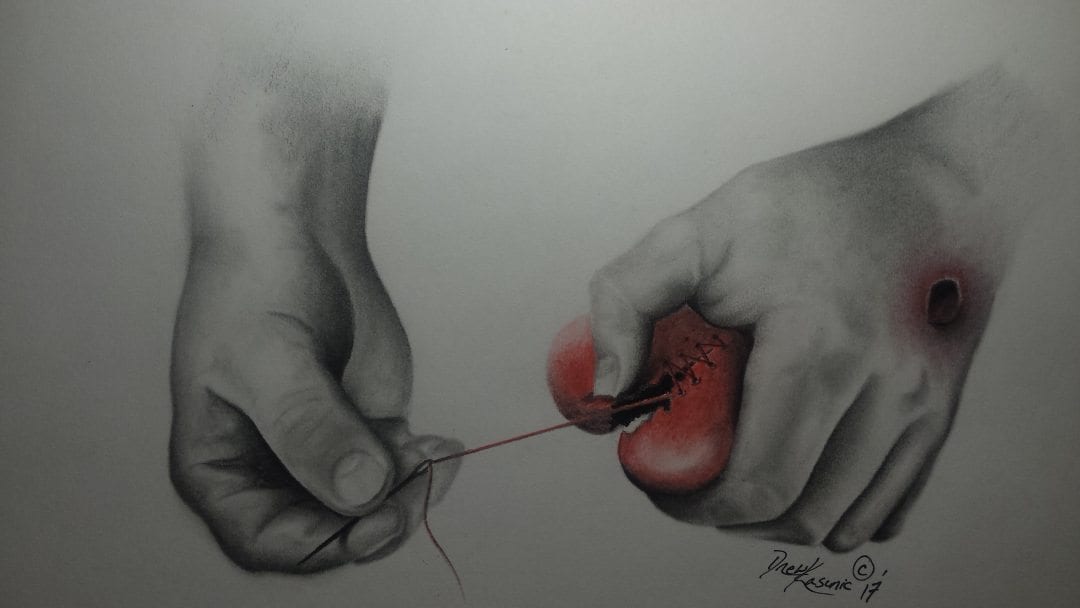 " Wounded Redeemer" was created to represent Christ's forgiveness and love for us.
While designing this piece I wanted to portray Jesus's hands sewing a torn heart back together. The thread being his love and forgiveness. There is obviously nothing perfect in this life and it can throw a lot of garbage right on us.
With TRUE love there is free will. You can't make someone love you, much like the relationship between us and Christ. He has given us free will to have discernment on making right and wrong choices. When we make wrong decisions and sin, God has unlimited thread to mend that void. All we need to do is ask. Or maybe it's not a sin issue that has come up, maybe it's being lonely,or a divorce, or a lost love one. Maybe it feels like a giant mountain of circumstance that screams in our face. There is NO circumstance or situation that is to big for God to handle. We just need to trust him that he is already handling it.
However, when we make the right decisions and living in his word. God doesn't let go of our heart. He doesn't set us down so we can accumulate shelf life until we need him again. He has our heart in his hand the whole time, even if we neglect to chase and cling to his heart.
Jesus has a unconditional love that sees beyond the outer surface of our lives and he excepts us for who we are, regardless of our short comings, or flaws. Our goal should be to emulate Christ's love to others so that they may find the hope and peace in hearing he good news.
The Bible describes what real love needs to look like in 1 Corinthians 13:4-8. It says
4 Love is patient, love is kind. It does not envy, it does not boast, it is not proud. 5 It does not dishonor others, it is not self-seeking, it is not easily angered, it keeps no record of wrongs. 6 Love does not delight in evil but rejoices with the truth. 7 It always protects, always trusts, always hopes, always perseveres. Another verse of the level of God's love for us is in Isiah 53:5 says," He was wounded for our transgressions, he was bruised for our iniquities: the chastisement of our peace was upon him; and with his stripes we are healed."
I thought it was appropriate to finish this piece before Valentine's day. A day that we show people how much we love them by buying them stuff.In our society this is what we call love, but there is so much more to love then that. So, while this Valentine's Day passes, think of the people around you.Can you show them Christ-like love. If your dealing with sin or circumstances in your life. Turn it over to Christ. Let him run his thread of love and forgiveness through your life. Make a heart decision to follow him and trust his lead.
Thank you for time and letting me share.
Drew
#woundedredeemer
Thanks for checking us out!
Drew has lived the lifestyle of a Colorado Cowboy/Rancher, which is reflected in his art, designs, and landscapes.
Artwork can be purchased in print form, both with and without frame, as well as in apparel.
Check out the Shop tab to see what's available.
Have something you want made specially for you?
Contact drew and commission him for your piece.