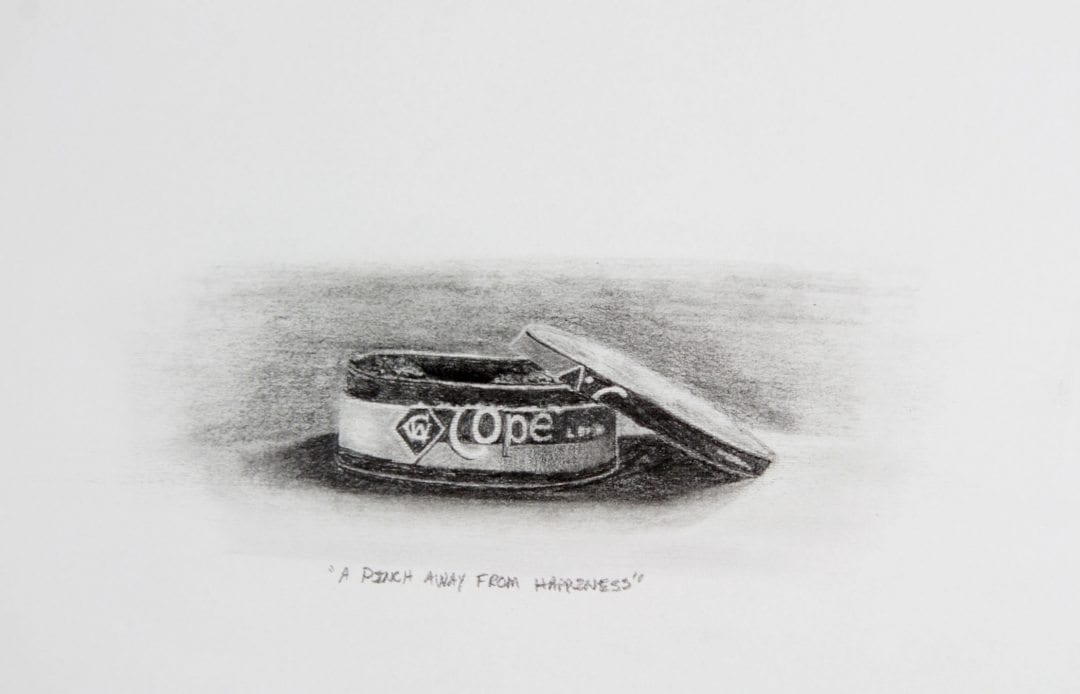 "A pinch away from happiness" was also part of the " broken arm " series that I had done. Thinking and writing about my art now from art clips I have done a few years ago, really puts my perspective in contrast with it's self from then and now. As I went to bed the other night thinking about this picture and why I choose it. I relived some of my younger years. I remember in high school there were two flavors, BLACK and ORIGINAL. Now both are a acquired taste for someone looking to get into a bad habit. For the first time trier, please take note that your skin will turn plaid, your eyes may try crying, and your stomach will hit the ejection seat a few times perhaps, but if all this sounds like a big bag of fun knock your self out. It reminds me of a Mickey and Pluto cartoon of him trying the chew he stole from the army's mascot and going through much of symptoms above.
At the time, Chris Ledoux was performing at the Greeley Stampede with his hit "Copenhagen" ( my brother and I got TOO many miles out of his greatest hits c.d.) At the time it was a culture thing for everyone to chew. You know, I believe that c.d. ,Clay Walker and the sound track to Footloose got us through four years of high school. Anyways, It seemed like Copenhagen was almost a right of passage for a younger man / teenager in a country setting. The " COOL" cowboys and farm kids all had a can. In fact it wasn't uncommon for me to carry my spit cup from class to class and not be bothered. Then Copenhagen was expanding their flavor line with some new products with one flavor called 'Straight". I loved it and it was B-E-A-UTIFUL. Never liked another after I had that Copenhagen Kiss.
I chewed that for the next 16 years on and off.When I was on a location in the oilfield, or on the back of a horse pushing cows, or shoeing or trimming a horse it didn't matter. I was always a pinch away from happiness. In fact I even had a blue healer that was the runt of the liter, so I named him Pinch. Unfortunately I lost him in the forest when he was five while looking for new hunting ground. I put him on some cows and he never came back. I searched for him for 2 full days on horse , but could never find him. ( I'll add that he had already 100+ miles under his belt at three months old pushing cows and being behind horseback in the forest. #experienced) SAD.
So the game changer came for me a year or two ago. I would have my spit cups and have a rope of cope in the freezer to keep it fresh. My wife and I had briefly talked on the question " what if the boys copy me and want to chew?' My reply was of course for my oldest " they don"t even know what it is". Well i got to eat those words when my oldest at three put a Kleenex is his sippy cup and was spitting in it. When confronted he replied " I'M CHEW'N MA !!" So I needed to reevaluate my priorities as a parent. Why would i want to set my child up with a addiction in a positive light when life in this world is already challenging and trying enough with out any vices. I made the decision to quit cold turkey that day, and did pretty good. Being real here I'll get the wild hair riled up and go grab a can maybe two or three times a year. Sorry, I'm a work in progress
Thanks for checking us out!
Drew has lived the lifestyle of a Colorado Cowboy/Rancher, which is reflected in his art, designs, and landscapes.
Artwork can be purchased in print form, both with and without frame, as well as in apparel.
Check out the Shop tab to see what's available.
Have something you want made specially for you?
Contact drew and commission him for your piece.