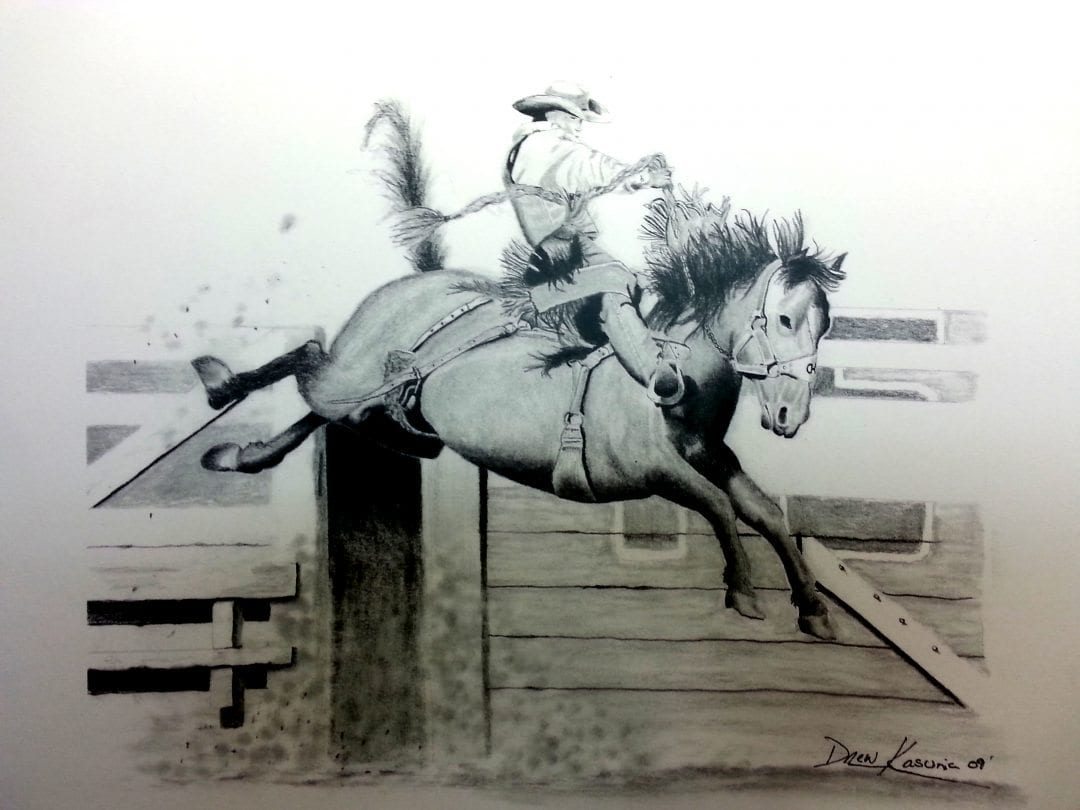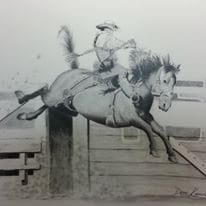 "Sit-N-Spur" Saddle Bronc picture was really the start for me. In 2009 I had been injured with a broken arm, unable to work and limited on what I could do. I had always been able to draw a little, but never really pursued anything. This picture gave me the courage and persistence to continue drawing into what I have accomplished today.
Unfortunately, it took a plate, six screws and eight weeks of a cast to push me into the talent God had blessed me with. Fortunately, it has really blessed me with being able to create unique works of art for the western and rodeo culture.I think its poetic to watch horses twist and roll in mid air. Of course it doesn't feel that great when your riding, but its looks awesome. So I tried to portray that in this saddle bronc picture.
Also, a little unknown fact. I have a brand on my arm that is a reverse D and K put together. If you look very closely at the nose band on the saddle bronc halter, you be able to see my brand.This is something I started in the beginning and have carried out hidden or un-hidden in most of my art works. in my upcoming pieces see if you can find my brand in the pictures I create.
Thanks for checking us out!
Drew has lived the lifestyle of a Colorado Cowboy/Rancher, which is reflected in his art, designs, and landscapes.
Artwork can be purchased in print form, both with and without frame, as well as in apparel.
Check out the Shop tab to see what's available.
Have something you want made specially for you?
Contact drew and commission him for your piece.
More Info
If you would like to get started on a personal, unique piece created especially for you, shoot Drew an email or give him a call and work with him directly. Chat about your vision and the requirements, and make a deal. Be prepared to pay half up front, and the other half upon completion.
Phone: (970)616-2594
Follow/Like Drew Kasunic Designs on Facebook to see new works before they are sold on the site.
It's also the best way to hear if he will be any events near you!